Written by: Isaias Garcia | Ecosystems Account Manager | The Financial Clinic
If you've been following our five-part blog series, you've learned about the most common barriers to a jobseekers success, strategies for effective integration, solutions to overcome the challenges that will most certainly pop up along the way, and the difference that your program can make once you've successfully embedded. But what does this look like in practice? Read the story of one staff member experiencing the integration of financial security firsthand through the WorkBOOST NYC program highlighted in the Issue Briefs.
It wasn't too long ago that I was a frontline staff member joining the WorkBOOST NYC ecosystem to help YearUp participants become financially secure. I remember being excited at the prospect of being able to offer the new financial security services into our program, but also being skeptical about how I was going to learn everything I needed to know to help people build financial security. This is where online tools can really make all the difference. There are a ton of financial technology products that can be useful when working with participants on their finances. Mint.com, Credit Karma, Annual Credit Report, Credit Builders Alliance, Prosperity Now's Financial Coaching Network, Nerdwallet, and financial products such as CFR's prepaid card and EARN's SaverLife card, just to name a few, are all great tools that the Clinic staff were happy to discuss and recommend as we dove into our first trainings. But when the Clinic introduced its online financial coaching platform, Change Machine, I knew this was going to be the tool that would turn me into a powerful and effective financial coach. It made the adoption of this work very straightforward and easy to do.
Change Machine had all of the tools (check out a free sample of tools here) and knowledge I needed in one place, the coaching toolbox and the SHARE community were jam packed with resources to help me get started and other practitioners for me to lean on, but this didn't mean the transition was always seamless. As with any new program, I definitely had my challenges while learning to navigate the platform and becoming familiar with all of the new strategies.
My first challenge was embedding the online program into my everyday schedule. As the fourth blog in this series touched on, while working in the nonprofit sector, there are one million processes to follow and there is never enough time in the day. Adding one more "thing to do" or "program to use" can seem excessive. However, once the holistic support from our capacity building team was explained to me by the Clinic's Manager of Service Delivery, all of us at YearUp completely on board, and learned to calendar time into our weekly schedules, which after a while, ended up saving us quite a bit of time on data entry and 'catch up work' after our sessions.
To highlight just a few of the things that I remember being grateful for when I first started working one-on-one with my participants on their finances, I found the most effective exercise to be the goal setting tab within the coaching section. Here you can set a foundation, allowing your participant to track where they currently are financially versus where they would like to be, and then create a gameplan to get from point A to point B. The beauty within the coaching section is that you are able to collect data and measure your impact. Once the participant achieves a milestone, they get recognized for it and you begin to see a shift in their behavior. They shift from doubtful and unsure to "I can absolutely do this." It's where the magic happens.
The 'Financial Tune Up Calculator' was another one of my favorites, as it would usually help my participants gain perspective and realize it was time to tackle their finances and make those core behavioral changes. Whether it be changing spending habits or tackling old issues on their credit reports, the things that came up were likely all things they'd been burying and ignoring for quite some time. Pulling their credit reports in our sessions, they'd often say "WHOA, what can I do to make this better?"
This was always a point when the coaching relationship grew stronger, the walls came down and participants would set their sights on forward thinking, strengths based, asset driven financial goals. Together we would set up an action plan, one that I could hold them accountable for and support them throughout. The tipsheets I spoke about earlier (also available in Spanish) were very helpful when working in coaching sessions, as they'd provide participants with a tangible resource that they could actually walk away with. I remember one of my participants coming back to our second or third session and saying, "I shared these tipsheets with my parents and a few of my friends, because I think they can benefit from all of this information as well." The fact that the tipsheets were easy to understand and conveyed important information and action steps so clearly, made the participants excited and eager to share. Making that kind of instant impact sticks with you and makes you feel good.
Not only was it easy to see the difference in our participants as they prepared for their careers while learning better ways to make financial decisions, but we also saw the staff learning brand new financial tips, myself included. Throughout our initial trainings, Clinic staff would use Change Machine to demonstrate various points and you would see the the light bulb turn on as the staff learned all kinds of valuable information — strategies that we could use with our families and loved ones, in our own personal finances, and to help us reach our own financial goals. It definitely builds a stronger sense of community when organizations create an "ecosystem," connecting their staff, participants, and families to resources to help them become financially secure.
I was so motivated by the process of embedding financial security work with Change Machine into our YearUp program while participating in WorkBOOST NYC, that I've now transitioned into the role of Ecosystem Account Managerat the Clinic! Seeing the impact of this work right on the frontlines inspired me, and now I hope to support and inspire other organizations to integrate this work and do the same. Knowing that there are financial technology platforms out there like Change Machine that can teach us everything we need to know and empower us along the way, makes it that much easier to tackle the new work, and to embed successfully while tracking measurable progress! It's really exciting to think about the possibilities. To stay up to date with the project I'm working on now and the 14 new organizations who are about to take on the financial security work, check out our FinancialWorks page, and follow us on social media.
To learn more about the integration of financial security building into workforce development services, please see Corporation for Skilled Work and The Financial Clinic's Full Series of Issue Briefs, or refer back to the first 4 blogs in this series. If you'd like to learn more about Change Machine and how it might be able to empower your journey, sign up for one of our live virtual presentations and request a free trial today.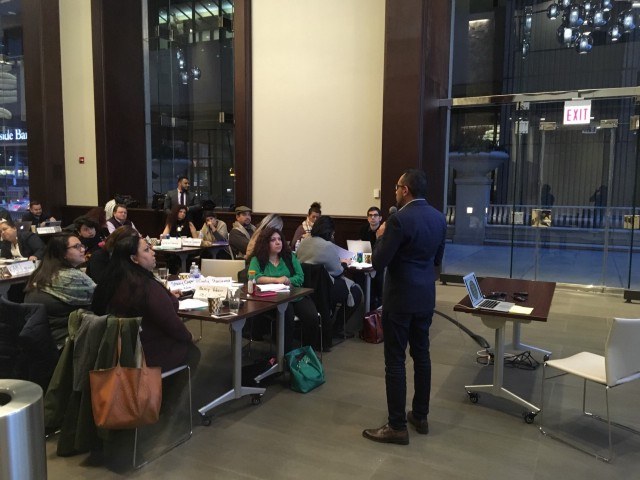 Want to hang out with us in person and learn even MORE about this important work? Then you won't want to miss Impact NOW, a practitioners convening coming to NYC on March 16th. If you're a program manager, workforce development practitioner, or financial security practitioner and are interested in learning about new tools and strategies to dramatically increase impact while working one-on-one with customers — this is a day you won't want to miss! RSVP here.
Join the discussion on twitter, @skilledwork_org, @financialclinic #morenotextra #finsec4change #integrate
*This blog is the final blog in a five-part series co-written by Corporation for a Skilled Workforce and The Financial Clinic. www.skilledwork.orgwww.thefinancialclinic.org